The Salvation Army Supports Annual 5k Run/Walkathon At Safeco Field
25 June 2014
The Salvation Army is honored to support the annual "Refuse to Abuse" 5K run/walk in Seattle this year on Saturday, July 19, 2014. The annual event, sponsored by the Washington State Coalition Against Domestic Violence, helps create awareness and improve community response to domestic violence.
This year's run/walk will again be held in Safeco Field, and begins at 7pm. It covers every level of the stadium – from the top, to the tunnel, to the final lap around the field. It provides a rare opportunity to see the stadium and the field from a new perspective, and one that few have experienced.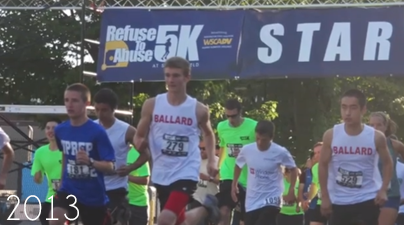 Registration for the event is now available online HERE. Registration cost is $40 before June 30, and $45 after. Participants are also encouraged to raise donations from friends and family for this important cause. For more information about the event, click HERE.
The Washington State Coalition Against Domestic Violence is a resource for programs that assist domestic violence victims and their families, including The Salvation Army. The resources provided by the Coalition include:
Working for laws that ensure safety and justice for survivors
Providing specialized support to domestic violence agencies
Conducting research to promote local-level change
Publishing papers on critical issues
For information about the Washington State Coalition Against Domestic Violence, click HERE.
---
Want To See More?
Check out this short slideshow video from the 2013 event!