40th Annual Celebrity Bell Ringing Event in Seattle
14 December 2014
Pictured Above (From Left): Herb Mead, founder of the Celebrity Bell Ringing event, Jermaine Kearse & Doug Baldwin of the Seattle Seahawks, Lee Stiles of The Salvation Army with Clint & Lisa Mead. Want to see more photos from the 2014 Celebrity Bellringing event in downtown Seattle, click HERE
---
The holiday season kicked off in grand style when local celebrities gathered to ring the iconic bells of The Salvation Army red kettles in Downtown Seattle on Tuesday, December 9, from noon to 1pm. Although it rained for days before (and the morning of) the event – the clouds parted and the sun shined during this festive hour.
This year marked the 40th annual Celebrity Bell Ringing event, a tradition founded by Advisory Board member Herb Mead, and continued to this day by his son, Clint. Since 1974, Celebrity Bell Ringing has raised millions of dollars for families in need.
The festivities were led by Clint, joined by Salvation Army Divisional Commander, Major Douglas Tollerud, at the corner of 5th Avenue and Pine Street, in front of the festive Nordstrom windows.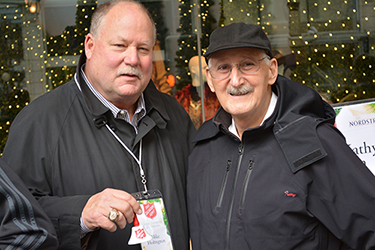 This year, Mike and Kathy Holmgren again participated in the event. The former Seahawks head coach (1999 – 2008) was a supporter of The Salvation Army while he lived in Seattle, and his wife, Kathy, was a member of the organization's Advisory Board. They moved back to Seattle after his retirement. Attendees and passersby continue to be fans of Mr. Holmgren, and he obliged to many photos and autographs during the event.
Seattle Seahawks wide receivers Doug Baldwin and Jermaine Kearse participated, graciously taking many photos and signing autographs for fans. Doug Baldwin's attendance was particularly special. The Stanford graduate and Super Bowl winner started his football "career" as a kid, playing in The Salvation Army youth football league in Florida. He has spoken publicly about how that experience has shaped his professional and personal life.
Andy Rose and Cam Weaver from Seattle Sounders FC joined the fun, also posing for photos with fans. They were joined by TV and radio personalities, and some of the leading philanthropic members of our community – all helping The Salvation Army raise money for this great cause.
Hailed as one of the most fun events in the area, Celebrity Bell Ringing is a fast-paced hour with Seattle's most famous, and an opportunity to help those in need by donating to a kettle. Although the economy is improving for many people, there are still many families who struggle to make ends meet and need the assistance of The Salvation Army.
The following celebrities are scheduled to participate this year. Be sure to check back for photos from the event.
Mike Holmgren - Seattle Seahawks, Head Coach (1999 – 2008)
Doug Baldwin - Seattle Seahawks
Jermaine Kearse - Seattle Seahawks
SeaGals Hannah and Christian
"Blitz"
Andy Rose - Seattle Sounders FC
Cam Weaver - Seattle Sounders FC
"Rudy the Redhawk" - Seattle University
Dennis Bounds - KING 5
Greg Copeland - KING 5
Mark Wright - KING 5
Mike Ferreri - KOMO 4 TV
Brad Goode - KOMO 4 TV
Paris Jackson - KOMO 4 TV
Denise Whitaker - KOMO 4 TV
Marni Hughes - Q13 FOX / JOE TV
MJ McDermott - Q13 FOX / JOE TV
Kelly O'Connell - Q13 FOX / JOE TV
David Rose - Q13 FOX / JOE TV
Gregg Hersholt - KOMO News 1000 / FM 97.7
John Carlson - Talk Radio 570 KVI
Mark Christopher - WARM 106.9
"AJ" - WARM 106.9
Brooke Fox - MOViN 92.5
Lydia Cruz - MOViN 92.5
Jackie Cunningham - CLICK 98.9
Marco - CLICK 98.9
Brian Moote - CLICK 98.9
Justin Nettlebeck - CLICK 98.9
Molly Mesnick - 106.1 KISS FM
Bender - 106.1 KISS FM
Kat Fisher - 106.1 KISS FM
Benjamin Schubert - 106.1 KISS FM
Kimball Gainor - Miss Seattle
Kailee Dunn - Miss Washington
Karen Caldwell - Mrs. Washington
---
Help The Salvation Army Care For Others Throughout The Year And All Around The World
The continued work of The Salvation Army relies on the generosity of donors. If you would like to help us provide programs such as shelters for those affected by domestic violence or homelessness, food banks and nutrition programs, as well as other vital services, please consider making an online donation today. Your donation stay within your community to help fund much-needed community programs for those in need. Every donation you make helps The Salvation Army continue "Doing The Most Good" today and in the future.
Click HERE to make a donation. Thank you!
---
Other News You Might Have Missed
| | |
| --- | --- |
| 01 December 2014 | |
| 02 December 2014 | |
| 21 November 2014 | |
| 21 November 2014 | |
| 14 November 2014 | |
| 14 November 2014 | |
| 14 November 2014 | |